Baked Zucchini and Kale Fritters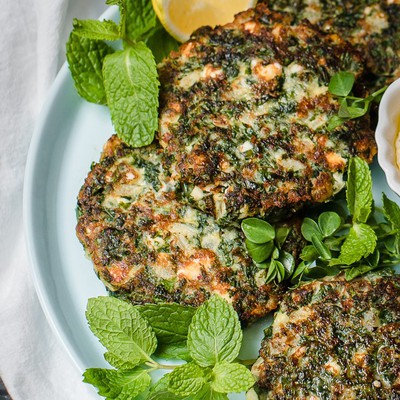 Here at The Home Garden, we have teamed up with exceptional cook Margaret Pahos from Create Cook Share to provide you with delicious ways to use your produce.
Baked Zucchini and Kale Fritters - Super easy and super healthy!
Ingredients:
3 medium zucchini grated
1 cup finely chopped Kale
1 spring onion stalk finely chopped
100g crumbled feta
2 eggs whisked
1 tbs dried oregano
1/2 tsp garlic salt
1 tsp salt
1/2 tsp pepper
Method:
1. Preheat oven at 180 degrees.
2. Grate the zucchini and add the salt to draw out its liquid. Set aside for 10 minutes.
3. In a bowl combine all other ingredients.
4. Remove excess liquid from zucchini by squeezing. You can use a tea towel or cheese cloth as you need to remove as much liquid as possible.
5. Add to egg mixture.
6. Spoon out equal amounts onto a baking tray lined with baking paper.
7. Bake for 15 minutes. Turn over and bake for a further 15 minutes or until golden brown. Serve with sour cream and chives or eat just as is!
Recipe and Photography by Margaret Pahos at instagram.com/createcookshare/
Check out the following growing guides to learn more about growing these ingredients