Bean and Vegetable Soup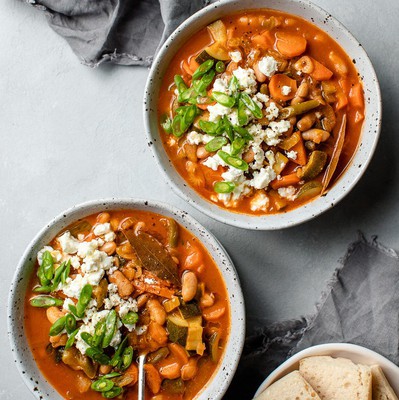 From garden to plate! A hearty vegetable soup to feed the family.
Serves 4
Ingredients:
400g cannellini beans
3 bay leaves
3 tbs tomato paste
3 tbs extra virgin olive oil
3 cloves garlic, sliced
3 celery stalks, remove strings, finely sliced
2 large carrots, finely sliced
1 large brown onion, diced
1 large zucchini, diced
20 green beans, sliced on the diagonal
1 litre boiling water or vegetable stock
Crusty bread to serve
Optional garnish:
Basil leaves
Parsley
Crumbled feta
Shaved Parmesan cheese
Extra virgin olive oil
Method:
1. Add to a pot the extra virgin olive oil, onion and garlic and sauté for a few minutes. Next
add the celery, carrot, zucchini and green beans. Continue to sauté for a few
minutes.
2. Add sea salt, pepper, tomato paste, bay leaves and vegetable stock or boiling
water. Bring to boil, then reduce heat to a simmer and cover with lid. Cook for 20
minutes.
3. Add the cannellini beans to the pot and continue cook for a further 10
minutes, uncovered.
4. Allow to sit in the pot for 10 minutes so that the liquid can thicken and serve in bowls
along side some crusty bread and optional crumbled feta.
Enjoy!
Recipe and Photography by Margaret Pahos at instagram.com/createcookshare/
Check out the following growing guides to learn more about growing these ingredients