Spinach, Leek and Feta Roll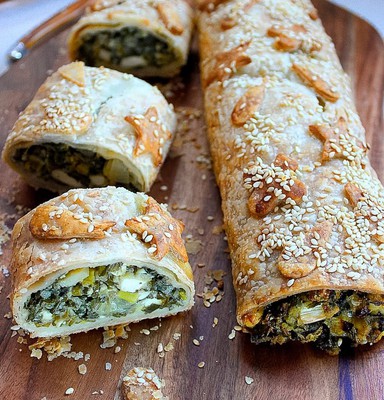 Looking for creative ways to use up your home grown greens? Try this delicious Spinach, Leek and Feta Roll.
Ingredients:
4 cups Chard (Silverbeet), washed, dried, finely chopped
2 tbs olive oil + 1 tbs extra
1 leek sliced
1 large onion diced
6 shallots / green onions finely sliced
1 cup parsley finely sliced
150g feta crumbled
1/2 cup tasty cheese
2 eggs whisked
Savoury pastry (4 sheets)
Pepper
Sesame seeds to decorate (optional)
1 lemon cut into wedges
Method:
1. Preheat oven at 180C.
2. In a frying pan sauté the leek and onion with the olive oil.
3. In a large mixing bowl combine all ingredients including the leek, onion and extra olive oil.
4. Lay out the pastry sheet. With a wet finger brush the edge of one side. This allows the pastry to stick together when rolling over.
5. Place along the opposite edge of the pastry 1/4 of the mixture (if there are 4 pastry sheets then separate mixture into 4). Each spinach roll will be thick and large similar to a loaf.
6. Roll up to enclose filling and place on tray seam side down.
7. Brush with egg wash and sprinkle some sesame seeds. This is optional.
8. Place on tray with baking paper and bake for 45 minutes or until golden brown and cooked. Allow to cool for 10 minutes and cut into 4cm thick slices.
9. Before eating, place the spinach roll piece on its side, exposing the spinach mixture, and squeeze some lemon juice onto it. This gives it a really fresh and tangy taste!
10. Serve warm. Enjoy.
Recipe and Photography by Margaret Pahos at instagram.com/createcookshare/
Check out the following growing guides to learn more about growing these ingredients