Zucchini Cannelloni Bake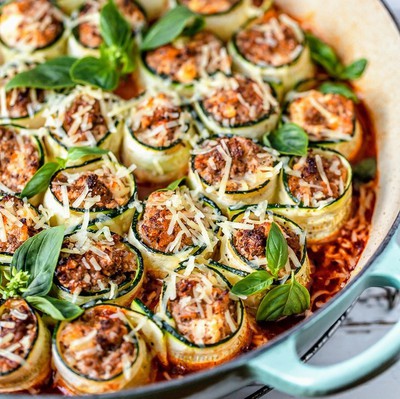 Have enough home grown Zucchini to feed a village? Try this delicious Zucchini Cannelloni Bake. It will not disappoint!
Ingredients:
500g beef mince
500g pasta sauce
300g ricotta
4 Large zucchini, sliced using a mandolin
4 garlic cloves, minced
1 large onion, diced
2 tbs extra virgin olive oil
1 tbs chia seeds
Sea salt
Pepper
Freshly grated parmesan cheese
Fresh basil leaves
Equipment:
Round baking dish, 30cm in diameter
Method:
Preheat oven to 190°C fan forced.
In a saucepan, add the oil and mince. Using a wooden spoon gently break down the meat and cook until lightly browned. Add the onion, garlic and continue to cook for a further 2 minutes.
Add the chia seeds (helps to thicken the sauce), sea salt, pepper and half of the pasta sauce. Keep cooking until the mixture comes to the boil, then turn off the heat and allow to slightly cool.
Add the ricotta to the mince mixture and combine well. This will be the filling for the zucchini cannelloni.
Pour the other half of the pasta sauce into the base of the baking dish and begin to roll the zucchini with the filling.
Add a tablespoon of the mixture onto the end of the zucchini slice and using your fingers roll up and place it into the baking dish with the sauce. Repeat with remaining zucchini.
Bake in preheated oven for 20 minutes. Once cooked, garnish with freshly grated parmesan cheese and basil leaves. Serve immediately.
Optional: Sprinkle some Mozzarella cheese over the top of the dish 5 minutes before removing it from oven for extra cheesy Cannelloni.
Recipe and Photography by Margaret Pahos at instagram.com/createcookshare/
Check out the following growing guides to learn more about growing these ingredients